Does your dental office need dental whitening lamp?
Dental whitening products are effective after a number of uses and can last a few weeks, and as you know a dental led whitening lamp speeds up treatment by much, leading to a similar or even better result with a much faster process. These lamps can be used to accelerate the bleaching process by accompanying specific products in the treatment.

Their function is simple, the specific light has a direct effect on the patient's teeth, on which a whitening agent is applied, so that after a certain number of sessions of a few minutes each, depending on the lamp you choose, the agent has had more than one process completed.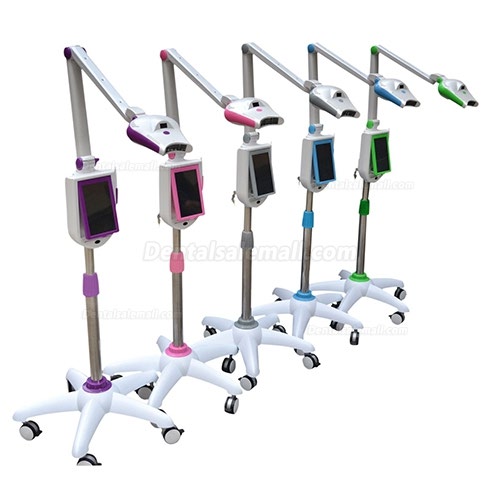 The features of the perfect whitening lamp:
The quality of a lamp is often reflected in the range of options to control the whitening of each patient's teeth.

But there are other parameters that differentiate whitening lamps:
These devices exist in several sizes, several weights, and several hanging modes. Most of them also have casters. We will focus on the practicality of the arm joints and the comfort with which we will be able to use the device without feeling overwhelmed.
Functions for adjusting operating times, colour change and exposure power are available on some whitening lamps to best adapt the procedure to each patient.
The number of colours projected by the LED increases the wavelength covered by the device, making it possible to treat patients more or less effectively depending on their sensitivity.
A lamp equipped with a ventilator will provide better comfort to the patient but is likely to emit an annoying noise, unless the ventilator is optimized not to emit sound.
The heat production of the device must be reasonable to avoid any sensitization of the patient's teeth.
It is up to you to choose a product according to these characteristics and the demands of your patients.

If you want to purchase some dental equipments, please visit here "china dental supply".