Tips on How to Choosing a Right Dental Curing Light
Surely at some point you have asked yourself why there is such a wide price difference between some curing lamps and others. The price is not just related to design and the accessories for the lamp but also its functions and technical features such as weight, wavelength or output power.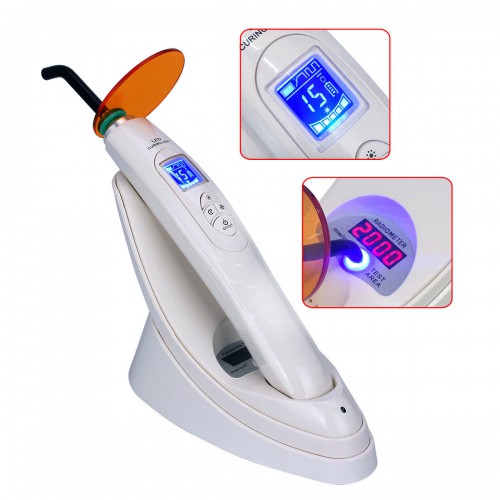 Dental Curing Lamps are used in dental clinics to polymerise resins sensitive to the light in processes of restoration and to speed up some whitening treatments. To obtains some long-lasting restorations, a proper polymerisationis indispensible and will depend on a light source with a determined strength, exposure time, on the quality of the light, the impact and the distance, as well as the energy and heat released. In the first place, as basis for the correct selection of the curing lamp you should ask yourself the following questions:
What output power does the curing lamp that you want produce? ¿Does this match the needs of your clinic?
What wavelength range does it achieve? Will this serve to polymerise the composits that we always use at the clinic?
Is this for continuous use? ¿Does the lamp release heat during polymerisation?
What polymerisation settings does it have? Is there a gradual or fixed increase in intensity?
Is it wireless? How long does the battery take to charge? And how long does it last?
Is it light and does it have good ergonomic design? Will we be comfortable throughout long treatments?
At Dentalsalemall.com we offer you some tips to help you choose the polymerization lamp that best suits your needs and we will recommend some of the best proposals that currently exist in the market. The polymerization lamps are characterized by the power output, the diameter of the guides and the amount of heat emitted. According to Ivolcar Vivadent, at least 1,000 mW/cm2 are needed to polymerize composites in 10 seconds through a dental structure in indirect restorations. However, for direct restorations, at least 400 mW/cm2 of output power is required for proper light-curing.