What do you need to know when you buy a mobile cart dental delivery system?
Dental delivery system :
Mobile cart dental delivery system in an operatory is what gives you access to your hand pieces, air syringe, dental suction unit etc.

These can be purchased as part of a all-in-one package or a stand alone type.

Delivery systems can be installed in your operatory with different configurations – such as over-the-patient, rear-delivery(12'o clock), or side delivery.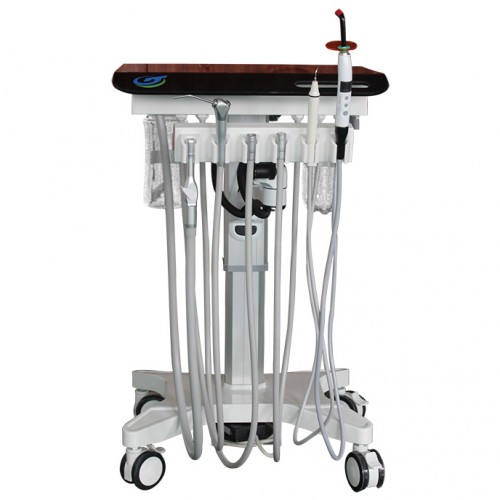 How do you know which one is right for you? To answer that, consider the following:
What configurations have you already used before? Did you feel comfortable? What about it didn't you like?
How much room do you have – what size are your operatories?
What are you trying to achieve with a particular type of configuration?

In a self-contained mobile dental cart, the plumbing and vacuum system comes built in. If you're doing a new build-out, laying pipes so you have central vacuum and compressor should be the preferred method.

Self-contained systems is usually an overkill for an operatory if you're trying to equip multiple ops. It's certainly a valid option if you plan on expanding and for some reason, running the lines from your existing compressor and vacuum is not possible.

You will save more money long term by going with a central compressor and vacuum system – (where it's located in one place) and all your opearatories in your office are powered by it.